200 Off Road UTV Cab Heater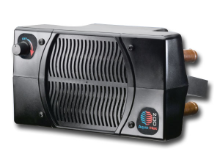 Click to enlarge image(s)
In cab heater that connects to the radiator system to heat with circulated hot water, just like your car. Comes complete with in cab unit and all connections to the radiator.
The adjustable mounting system and integrated, variable-speed switch make installation a breeze. Low amperage fans draw as little as .5 amps (yes, less than 1/2 of an amp!) ensuring long hours of warmth without killing your battery. Can draw up to 2 amps.
Made of tough, high-strength nylon 6/6, the housing resists harsh elements and challenging environments. And, at only three and a half pounds and 5.5" x 5.5" x 9.5" Off Road Heaters delivers big heat from a small, lightweight package.
Low amp draw for many hours of comfort heat without draining the battery

Compact Size - Allows mounting in tight areas

Variable speed allowing operator to set their comfort level

Installation kit includes bypass valve for hot summer months

Mounting bracket allows for 180° rotation from top to bottom for mounting to the floor, firewall or under the dash

Size: 9.5"(w) x 5.5"(d) x 5.5" (h)
BTUs Max: 6000/hr
Weight: 3.5 lbs
Hose Barb OD: 3/4"
Switch: Integrated, Variable Speed
Fan(s): One 12V DC Radial Axial Fan
Fan CFM: (100) Variable, (200) 0 to 100 Variable, 0 - 200
Volts: 12
Watts: (100) 6 (200) 24
Amps: (100) 0.5 (1/2 amp) (200) 2.0
Warranty: 1 Year Manufacturer Limited Warranty

The 200 off road unit is perfect for the larger two seaters, 4-6 passenger vehicles if have the 2 passenger units the 100 off road unit will work.