BobCat 3400 Soft Doors Rear Window Combo –fits OEM Top & Windshield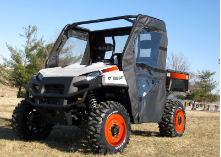 Click to enlarge image(s)
AVAILABLE FOR the NEW BOBCAT 34OO, model years 2011 and up
DOES NOT FIT the 2200 OR 2300 BOBCATS
This Doors and Rear Window Combo d
esigned and manufactured for
a perfect fit on your BobCat 3400 if you already have a top and hard windshield.
Handcrafted of Professional Grade 11 oz. Marine Textile that is virtually Waterproof, Puncture Resistant, Tear Resistant, and Scratch Resistant.
Roll Away doors providing the option of taking your doors with you. They conveniently stowaway when not in use or for that ope,n airy feeling.
AquaView vinyl, professional-grade marine textile polyester, self-adhesive Velcro and strong rare-earth magnets combine to provide you with a custom fit unlike anything on the market.
Custom Soft Door / Rear Window Combo offers superior protection from the elements at an affordable price.
Made in the USA.
FREE Shipping to the lower 48 states
Made in the USA.