CAN-AM Commander Full Cab Enclosure to fit Hard Windshield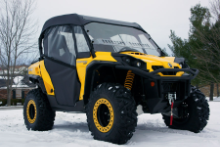 Click to enlarge image(s)
AVAILABLE FOR 1000 X, 1000 XT, and the 800 R
We've taken the incredible style and protection from the individual modules of the complete cab and put together a Full Cab combination to fit your existing hard windshield. It's the same elements you would purchase separately now in a combo for a better price.
Plus, during the warmer months, if you don't want a total enclosure, no problem. The doors and rear window easily come off. All of the elements are available ( Doors, Rear Window, Top Cap Canopy) are all available individually.

Easy to install using industrial strength adhesive Velcro® strips on the ROPS and self-tapping stud snaps in several strategic locations. Snaps are easily installed using a Philips head screwdriver.
Full Cab Enclosure handcrafted and hand measured to ensure a precise fit on your Can-Am.
Provides complete protection from the elements; incorporating a canopy, doors, and rear window!
Made of Professional Grade 11 oz. Marine Textile that is Waterproof, Puncture Resistant, Tear Resistant, and Abrasion Resistant.
The door window and rear window are constructed using durable 30 gauge AquaView Vinyl.
Doors have oversize double tab industrial strength zippers that unzip 3/4's of the way, allowing for easy access to the passenger compartment. Works in conjunction with OEM safety netting.
Full Length double pulls Industrial Strength YKK zippers.
Ships complete with heavy-duty self-adhesive Velcro, installation, and care instructions.
Completely handcrafted in the USA
Manufacturers 1-year warranty.