CF MOTO U-Force Full Cab Enclosure with Vinyl Windshield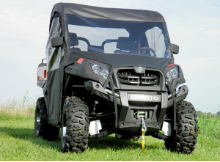 Click to enlarge image(s)
This Full Cab with Vinyl Windshield It is constructed of top quality, professional grade polyester marine fabric, it waterproof, puncture resistant, very sturdy, almost impossible to tear, and fade resistant. The windows and windshield are made of marine grade, scratch resistant 30 guage AquaView vinyl. Both materials were originally design to stand of to the riggors of ocean going yachts. Plus, the attention to detail in its craftsmanship is just another reason for the outstanding quality of this unit. Every seam is double stitched and and features over sized double pull tab zippers providing you with years of service. Both doors completely roll back and stow away for that open air feeling, but easily close for the extra protection when it is needed.
Full Cab Enclosure handcrafted and hand measured to ensure a precise fit for your CF MOTO U-Force.
Provides complete protection from the elements; incorporating a vinyl windshield, canopy,, doors, and rear window!
Made of Professional Grade Marine Textile that is Waterproof, Puncture Resistant, Tear Resistant, and Abrasion Resistant.
Windshield, doors, and rear window are constructed of durable AquaView Vinyl.
Roll Away doors provide the option of taking your doors with you or they conveniently stow-away when not in use. Providing shelter from rain, wind, sun, and snow.
Full Length double pull zippers.
Ships complete with self-adhesive Velcro, installation and care instructions.
Completely handcrafted in the USA
Manufacturers 1 year warranty.
Now available in your choice of colors!