CF Moto U-Force Soft Rear Window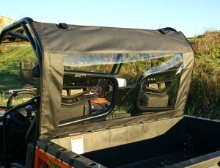 Click to enlarge image(s)
Fresh off the manufacturer's sewing table is this excellent quality soft Rear window designed specifically for your CF Moto U-Force. The first thing you will notice is the large AquaView window framed by one of the strongest materials you can find. The second thing you will find is how easy it installs to the ROPS using an industrial-strength, self-adhesive Velcro stip that aligns with its matching Velcro strip directly sewn into the seams. Secure and tight. Also available is the optional rear window zipper just so your Charlie dog can hop from the cab to the dump bed. Perfect right?
Constructed entirely of Professional Grade Marine Textile that is Waterproof, Puncture Resistant, Tear Resistant, and Abrasion Resistant.
The Window is constructed of a 30 gauge AquaView Vinyl with a light tent.
Will protect you from that nasty dirt, dust, mud, and rain the gets thrown into your cab from the rear wheel.
Comes complete with self-adhesive Velcro, step-by-step installation, and care instructions.
Everything required for a hassle-free installation is included.
Manufacturer's ONE YEAR warranty against defects in materials and workmanship.
Custom made in the USA
FREE shipping to the lower 48 states
Now available in several colors including True Timber Camo!