CFMOTO Z-FORCE Full Cab Enclosure with AeroVent Hard Windshield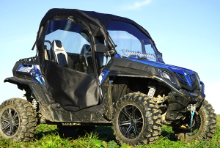 Click to enlarge image(s)
Now that you have test driven every brand Side-by-Side on the face of the earth, made the decision the ZFORCE 800 EX EPS was the one for you, and you are over the fear of getting it dirty, you are ready to play. So what are you waiting for? What, it cold out? You might get wet, or worse MUDDY. Then you are are exactly where you need to be. A Full Cab Enclclosure with an AeroVent Hard Windshield and you are in total comfort, ah, so to speak. You are looking at the top heap, professional-grade, original design AeroVent Polycarbonate windshield, Side doors< rear dust panel made, and top canopy, all constructed of 11-ounce polyester marine fabric that is impregnated with acrylic making it waterproof, puncture-resistant, very sturdy, almost impossible to tear. The side windows and the rear window are made of marine grade, scratch-resistant 30 gauge AquaView vinyl that is just as durable. Both materials originally designed for ocean going yachts.

Installation is a breeze with industrial-strength, self-adhesive Velcro strips attaching to the Roll Bars that match up to Velcro strips sewn into the enclosures' seams. Throw in a few self-tapping snaps, some webbing, and you are up and running in total comfort in no time.
Get complete protection from all the elements for your CFMOTO ZFORCE with this Full Cab Enclosure with AeroVent Windshield.

Oh wait, I didn't tell you about the Windshield. It is CNC cut to exact precision of 1/4 inch Lexan brand Polycarbonate and features the original AeroVent design. No more inconvenience of getting out of your cab, walking to the front, lifting and locking the flap in place, and then getting back into your cab. The AeroVent airflow systems allow you to open and close the vents sitting in the driver's seat. Plus, you control the amount of airflow, warm days, a lot. Cold days, not so much. The perfect ventilation system with no hinges to wear out.


Full Cab Enclosure handcrafted and hand measured to ensure a precise fit on your FFMOTO ZFORCE.
Provides complete protection from the elements: Hard windshield, both side doors. top canopy, and rear window!
Made of Professional Grade Marine Textile that is Waterproof, Puncture Resistant, Tear Resistant, and Abrasion Resistant.
The door and rear windows are constructed of durable AquaView Vinyl.
Doors unzip 3/4's of the way allowing you to roll them away and sewn in Velcro tabs hold them in place, providing the option of running with them open.
Full Length double pulls YKK zippers.
Ships complete with heavy-duty self-adhesive Velcro, step-by-step installation and care instructions.
Completely handcrafted in the USA
Manufacturers 1-year warranty.