Electric Operated Wiper Kit
249.99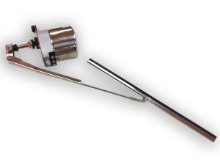 Click to enlarge image(s)
Basic electric Windshield Wiper Kit. Must have drilled hole.

This is a very basic 12 volt, electric Windshield Wiper kit to add to your hard winshied. Includes support strap. It is designe to work on poly carbonate or Lexan windshields. Please note: This wiper may scratch your polycarbonate windshield with extended use over time.

Normal Delivery Time is approximately 10 business days.



Customers that bought this unit also purchased: