John Deere XUV 550s4 REAR Doors Kit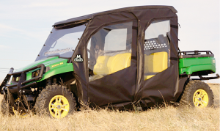 Click to enlarge image(s)
Custom designed and handcrafted specifically for the John Deere XUV 550s4, this Soft REAR Doors Kit will work perfectly with your existing windshield, top and front door kit giving you extrat protection for your rear seat. Add the optional Rear Window panel and you will have a complete enclousure of the rear seat. Perfect if you already have the FRONT doors kit.
Separate Second Seat Door Panels

Panels are constructed using Professional Grade 11 oz. Marine Textile that is impregnated with Acrylic making it Waterproof, Puncture Resistant, Tear Resistant and Abrasion Resistant, and color fast

The door windows are constructed of extremely durable 30 gauge Aqua-View Vinyl

Doors have oversize Full Length double pull, Industrial Strength YKK Brand zippers for easy access from both inside and out.

Ships complete with heavy duty self-adhesive Velcro, and every thing you need to do do a complete installation.

Completely handcrafted in the USA

Manufacturers 1 year warranty
FREE SHIPPING TO THE CONTINENTAL US

Now available in your choice of colors!