Kawasaki Mule 3000–3010 Full Cab Enclosure with Lexan Hard Windshield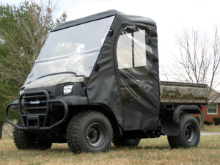 Click to enlarge image(s)
Arrive in style with Mammoth Design's new custom fit Full Cab Enclosure with Hard Polycarbonate Windshield. Constructed of top quality, professional grade polyester marine fabric that is impregnated with acrylic it is waterproof, puncture resistant, very sturdy, almost impossible to tear. The side and rear windows are made of marine grade, scratch resistant 30 gauge AquaView vinyl that is extremely durable. Both materials were originally design for ocean going yachts. Plus, the nearly bulletproof windshield of 1/4 inch of Lexan polycarbonate. Divided and hinged so you can run with it open eliminating blow back cutting down on dust in the passenger compartment and giving total access to the the front compartment. The attention to detail in its craftsmanship is just another reason for the outstanding quality of this unit. Every seam is double stitched and the over sized double pull tab YKK zippers will provide years of use. The doors completely roll back and stow away for the open air feeling but easily close in seconds for the extra protection.

Get complete protection from all the elements for your Kawasaki Mule 3000 / 3010 with this Full Cab Enclosure and Lexan Hard Windshield. The Mammoth Design's engineers have custom crafted it with the exacting details you demand.
Full cab is handcrafted and measured to fit with precision on your Kawasaki Mule 300 or 3010.
This is by far, is an extremely versatile unit, giving you far more options for your dollar.
Made entirely of Professional Grade Marine Textile that is Waterproof, Puncture Resistant, Tear Resistant, and Abrasion Resistant.
The custom design allows for access to the storage compartment under the hood.
The doors, and rear window are constructed of durable AquaView Vinyl. Up grade to Lexan Polycarbonate hard windshield (additional charge).
Roll Away front doors provide the option of taking your doors with you, and they conveniently stow-away when not in use.
The full cab provides shelter from rain, wind, sun, and snow.
Full length double pull YKK zippers.
Cab comes complete with self-adhesive Velcro, installation, and care instructions.
Manufacturer's ONE YEAR warranty against defects in materials and workmanship.
Custom made in the USA
FREE shipping to the lower 48 states
Now available in your choice of colors! Including True Timber Camo,
for an additional charge.