Kubota RTV500 Full Cab Enclosure to FIT Existing Windshield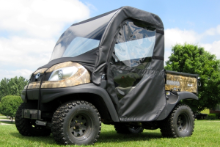 Click to enlarge image(s)
Give yorself complete protection form all the elements when you install this Full Cab Enclosure with your existing hard windshield. You get the side doors, rear window and top canopy that easily attache to your ROPS using insustrial strength Velcro strips and self-tapping snap studs. The side doors and rear window feature crystal clear tinted vinyl, the doors nad top are waterproof marine textile. Full Cab Enclosure handcrafted and hand measured to ensure a precise fit on your Kubota RTV500.
Provides complete protection from the elements; incorporating a canopy, doors, and rear window!
Made of Professional Grade Marine Textile that is impregnated with acrylic making it Waterproof, Puncture Resistant, Tear Resistant, and Abrasion Resistant. All seams are Double Stitched.
The doors window, and rear window are constructed of durable 30 gauge Aquaview Vinyl.
Roll Away doors provide the option of taking your doors with you or they conveniently stow-away when not in use. Providing shelter from rain, wind, sun, and snow.
Full Length, over sized, double pull YKK zippers.
Ships complete with self-adhesive Velcro, installation, and care instructions.
Everything is included for hassle free installation!
FREE SHIPPING in LOWER 48 States
Completely handcrafted in the U.S.A.