Kubota RTV900 Doors Rear Window Combo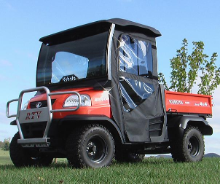 Click to enlarge image(s)
When you compare the UTVcabEnclosures.com Kubota RTV900 Doors Rear Window Combo to other units available, this is the best made soft cab enclosure on the market today. Manufactured by Mammoth Design, it is totally constructed of top quality materials; professional grade 11 ounce polyester marine fabric impregnated with acrylic making it waterproof, puncture resistant, very sturdy, almost impossible to tear. The Door and Rear Windows are made of a 30 guage marine grade, scratch resistant AquaView vinyl that is extremely durable. Both materials were originally design for ocean going yachts. The attention to detail in its craftsmanship is just another reason for the outstanding quality of this unit. Every seam is double stitched and the over sized double pull tab YKK zippers will provide years of service. The doors completely roll back and stow out of the way for that open air feeling, but easily closed for the extra protection you need from the elements.

When you combine your Hard Windshield and Top Roof with our Doors Rear Window Combo you get complete protection for your RTV900.

Now available in your choice of colors! Including True Timber Camo,

for an additional charge.