Kymco UXV500 Areo-Vent Hard Windshield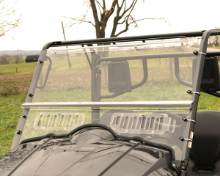 Click to enlarge image(s)
This 100% polycarbonate windshield percisely measured and CNC cut to exactly fit your Kymco UXV500. No more do you have to settle for substutes or generic windshields. This one was designed and manufactured just for the Kymco.
Custom constructed of Lexan Polycarbonate specifically to fit the Kymco UXV500

The unique custom design surrounds the flush fitting windshield with a professional grade rubber gasket, minimizing trail noise and enhancing the overall performance of the windshield.

Features the original AeroVent ventilation system allowing you to control the amout of fresh air flowing inot the passenger compartment. NO MORE stopping and getting out to open the vents

100% Polycarbonate making it much stronger than the less expensive Acrylic Windshields it is nearly bulletproof perfect for those rough wooded trail rides. 1/4" thick, it will give you the durability and performance you want.

Windshield is securely attached using rust-resistant stainless steel, rubber-lined clamps.

Easy to Install ! No special tools required. Comes complete with installation and care instructions.

Made in the USA.