Massimo MSU500 AERO-VENT Hard Lexan Windshield
449.99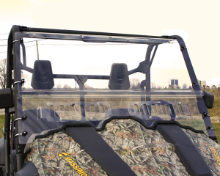 Click to enlarge image(s)
Custom Designed and handcrafted to specifically fit the Massimo MSU500.
NO MORE MAKE DO with Yamaha parts. This Hard Windshield was measured, cut and manufactured to fit.
Custom constructed of Lexan Polycarbonate specifically to fit the Massimo MSU500.
Areo-Vent Windshield, multiple CNC cut vents with adjustable slide doors helping to eliminate blow back and dust in the passenger compartment.
100% Polycarbonate making it much stronger than the less expensive Acrylic Windshields it is nearly bulletproof perfect for those rough wooded trail rides
1/4" thick, it will give you the durability and performance you want.
Windshield is securely attached using stainless steel, rubber-lined clamps.
Easy to Install ! No special tools required. Comes complete with installation and care instructions.
Made in the USA.