Massimo MSU500 Doors and Rear Window Combo
649.99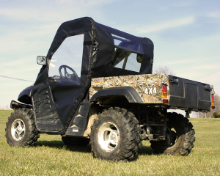 Click to enlarge image(s)
Already have the factory windshield and/or poly shell canopy top and you are looking for the extra protection provided by side doors and a rear window then this Doors, Rear Window Combo cabin is the ticket.
Designed for use with the Massimo MSU500
Provides complete protection from the elements when incorporating with the Windshield and canopy!
Constructed entirely of Professional Grade Marine Textile that is Waterproof, Puncture Resistant, Tear Resistant, and Abrasion Resistant.
The doors and rear window features durable AquaView Vinyl.
With the Roll Away Door feature, you have the option of taking your doors with you or conveniently stowing them away when not in use.
Provides shelter from the elements.
Full Length double pull YKK zippers.
Comes complete with self-adhesive Velcro, installation, and care instructions.
Everything required for a hassle-free installation is included.
Completely handcrafted in the U.S.A.