Massimo MSU500 Soft Top Canopy
100.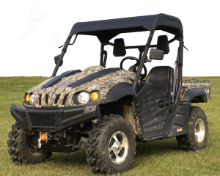 Click to enlarge image(s)
When you want a Top Cap for your Massimo MSU500, we take care of you with our new individual module design allowing you can add as little or as much protection you want. This hand measured, custom cut, and hand sewn Soft Top Cap Canopy provides great protection for the elements. You no longer have settle for a Yamaha after market enclosure. This this top was specifically design to fit perfectly on your Massimo MSU500 No Sags, NO Drips, No Errors. Everything attaches using wide industrial strength Velcro, sewn directly into the seams with adjustable webbing to get it tight. Easy Peasy! Installs in minutes. Plus, you have the advantage of adding the Doors. Rear Window and a Hard Windshield we carry at a latter date.
Hand crafted of Professional Grade 11 ounce Marine Textile that is virtually Waterproof, Puncture Resistant, Tear Resistant, and Scratch Resistant.

Comes with UTVcabEnclosures.com's 30 days, no questions asked, Money Back Guarantee.

Manufacturer's ONE YEAR warranty against defects in materials and workmanship.

Custom made in the USA

FREE shipping to the lower 48 states