Polaris Ranger AERO-VENT Hard Lexan Windshield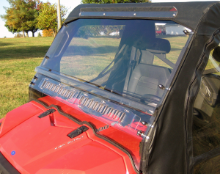 Click to enlarge image(s)
AVAILABLE FOR 2009 POLARIS RANGER 4X4 XP
THIS unit ONLY FITS the 2009 Polaris Ranger 4x4 or the 2009 Polaris Ranger 4x2
The Aero-Vent Hard Windshield for the 2009 Polaris Ranger XP, 2X4, 4X4, or 6X6 is completely handcrafted of 1/4" thick Impact Resistant Lexan polycarbonate. The Lexan Polycarbonate is the toughest glazing material on the market and the Lexan company warrants its product against breakage claiming it is virtually bulletproof.
The Aero-Vent system features a series of CNC cut vents across the bottom of the windshield with adjustable slides to give you the ability to completely controlling the amount of fresh air flowing into the Cab. This is the ONLY hard windshield on the market that does NOT require the operator to completely stop, get out of the vehicle, and open or close the window. Just loosen the thumbscrew, slide open or close the vents and you are all set.
Interstate tested, traveling three hours on an open trailer at the average speed of 70 mph.
Custom constructed of Lexan Polycarbonate specifically to fit the 2009 Polaris Ranger XP, 4X4, or HD
The unique custom design surrounds the flush-fitting windshield with a professional-grade rubber gasket, minimizing trail noise and enhancing the overall performance of the windshield.
NO MORE STOPPING to get out and open those pesky folding windshield, just slide open the Aero-Vent system, fresh air flows in helping to eliminate blowback and dust in the passenger compartment.
100% Polycarbonate making it much stronger than the less expensive Acrylic Windshields it is nearly bulletproof perfect for those rough wooded trail rides. 1/4" thick, will give you the durability and performance you want.
The windshield is securely attached using 6 rust-resistant stainless steel, rubber-lined clamps.
Easy to Install! No special tools required. Comes complete with installation and care instructions.
Made in the USA.