Polaris Ranger 400|400EV|500 AERO-VENT Hard Lexan Windshield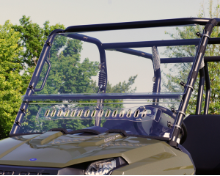 Click to enlarge image(s)
Interstate tested, traveling three hours on an open trailer at the average speed of 70 mph with a top speed of 78 mph.
Custom constructed of Lexan Polycarbonate specifically to fit the Polaris Ranger 400|400EV|500 Mid-size
Aero-Vent Windshield, multiple CNC cut vents with adjustable slide helping to eliminate blowback and dust in the passenger compartment.
100% Polycarbonate making it much stronger than the less expensive Acrylic Windshields it is nearly bulletproof perfect for those rough wooded trail rides. 1/4" thick, it will give you the durability and performance you want.
Windshield is securely attached using stainless steel, rubber-lined clamps.
Easy to Install! No special tools required. Comes complete with installation and care instructions.
Made in the USA.