Polaris General 1000 Side Doors Kit—Metal Frames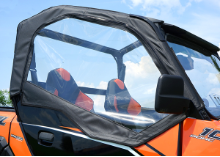 Click to enlarge image(s)
NOTE: THIS UNIT FITS YEARS 2015 thru 2017
Side doors that not only protect you for the elements, but gives you the extra protecton of the METAL FRAME. This side door kit is perfect. Both dirver side and passenger side doors that attache to the roll bars and Integrates with the factory 1/2 doors. Installation requires temporary disassembly of the door and cutting 3 slots in interior door panel. Uppre door frame is made of ¾" Steel. Nylon Canvas covering is UV coated while the zippered Vinyle windows are clear and easly open and stow away after open. Frame includes a built in mounting bracket for side view mirrors (mirrors are sold seperately).
Completely hand crafted in the USA

Manufacturers 1 year warranty.