Polaris Ranger XP900, XP1000, 570XP Side Doors Kit—Metal Frames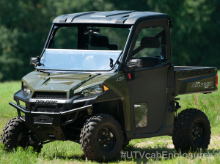 Click to enlarge image(s)
Side doors that not only protect you for the elements but gives you the extra protection of the METAL FRAME you want. This side door kit is perfect. Both driver side and passenger side doors attach to the roll bars, features actual pin hinges, and a metal door latch. Want to take it off? Just lift the entire door from its hinges and stow it away. The door frame is ¾" Steel. The Canvas covering is UV coated while the zippered Vinyle windows are transparent and effortlessly open. The framework includes a built-in mounting bracket for side view mirrors (mirrors sold separately).
Completely handcrafted in the USA

Manufacturers 1-year warranty

2013-2018 Polaris Full Size Pro-Fit Ranger 570XP;

2013-2018 Polaris Full Size Pro-Fit Ranger 900XP; and

2016-2018 Polaris Full Size Pro-Fit Ranger 1000XP

DOES NOT FIT THE REDESIGNED XP1000 2018 RANGERS WITH THE NEW BODY STYLE RELEASED IN MID-2017!

DOES NOT FIT

ROUND TUBE ROPS RANGERS OR MID-SIZED PRO-FIT RANGERS
Also bought with this unit.