American Sportworks LandMaster Full Cab to fit existing hard windshield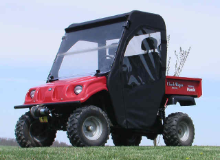 Click to enlarge image(s)
Outstanding protection of your American Sportworks LandMaster with this Full Cab Enclosure designed to work with your existing hard windshield. Doors, Rear Window, and Top Canopy all attach to the ROPS with industrial strength Velcro and matching Velcro sewn into the enclosure's seams. Doors open using YKK brand zippers allowing very easy access to getting in and out on cold days. In the supper time or warmer days just unzip the doors, roll them to the back and secure them out of the way with the Velcro at the door seam.


Full cab handcrafted for use with your factory folding windshield.
Combines the added benefits of the full cab enclosure and the windshield you have!
Constructed from marine grade canvas, 30 gauge AquaView tinted vinyl and polyester thread.
Utilizes your pre-existing factory windshield and converts into a Full Cabin Enclosure.
Protects you from all the elements. Keeping you warm and dry regardless of the weather conditions.
Durable material will withstand tough trial riding, or whatever you throw at it.
Manufacturer's ONE YEAR warranty against defects in materials and workmanship.
Custom made in the USA
FREE shipping to the lower 48 states
Now available in True Timber Camo!