BobCat 2200/2300 Full Cab fits Lexan Windshield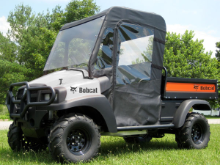 Click to enlarge image(s)
NOTE: This unit was designed specifically for the Bobcat 2200 & 2300 series model years 2007-and later.
It will not fit on model years prior to 2007.
Handcrafted to fit your Bobcat...You get the complete enclosure, both side doors, rear window pannel and the top cap canopy. It is designed to work with your EXISTING hard windshield. Completely hand made right here in the USA.

Full cab is handcrafted specifically for use with your factory windshield.
Combines the added benefits of the full cab enclosure & the windshield you have!
Constructed from marine grade canvas, 30 gauge AquaView tinted vinyl, and double stitched with polyester thread.
Utilizes your pre-existing factory windshield and converts into a Full Cabin Enclosure.Protects you from all the elements.
Keeps you warm and dry regardless of the weather conditions.
Custom made in the USA
FREE shipping to the lower 48 states