Honda Pioneer 500 Rear Window / Dust Panel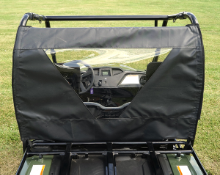 Click to enlarge image(s)
Just want a little something, something to help keep down the dust, and rain back wash as your tooling around in your Honda Pioneer 500. The this Rear Window—dust panel is just the trick. Very simple instal with industral strenght Velcro strips.
Constructed entirely of 11 oz. Professional Grade Marine Textile that is Waterproof, Puncture Resistant, Tear Resistant, and Abrasion Resistant.

The window has extremetly durable 30 gauge AquaView Vinyl.

Comes complete with self-adhesive Velcro, Installation, and care instructions.

Everything required for a hassle free installation is included.
Completely handcrafted in the U.S.A.
Now available in True Timber camo!