Honda Pioneer 700 FULL CAB Enclosure to fit HARD Windshield
699.99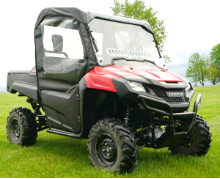 Click to enlarge image(s)
Let's just say, for the sake of argument, you already have a Hard Windshield on your Honda Pioneer 700, but that's it. Might get chilly on those cold, wintery nights or damp on a rainy day. Your problem is solved with this custom cut, handcrafted Full Cab Enclosure to fit or work with your existing Hard Windshield.

The attention to detail in the craftsmanship is incredible, just another reason the quality of this soft cab unit is so high. Every seam, double-stitched. Over-sized double pull tab YKK zippers giving you years of satisfaction. Doors completely roll back to stow away for the open-air feeling on those warm days, but easily close when the weather changes for the extra protection, they have been expertly designed to fit the OEM factory half doors.

Get complete protection from all the elements for your Honda Pioneer 700 with this Full Cab Enclosure to fit your existing windshield. The exacting detail you demand and deserve.


Full Cab Enclosure handcrafted and hand measured to ensure a precise fit on your Honda Pioneer 700.

Roll Away doors provide the option of taking your doors with you or they conveniently stow away when not in use. Providing shelter from rain, wind, sun, and snow when you need it.

Full-Length industrial-strength, oversize double pull YKK zippers.
Ships complete with self-adhesive Velcro, installation and care instructions, and everything you need to install.
Manufacturer's ONE YEAR warranty against defects in materials and workmanship.
Custom made in the USA
FREE shipping to the lower 48 states