Polaris Crew Full Cab Enclosure with Aero-Vent Polycarbonate Windshield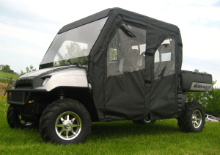 Click to enlarge image(s)
The Polaris Full Cab Enclosure with Aero-Vent Polycarbonate Windshield is handcrafted and hand measured to ensure a precise fit.
Featuring the exclusive Aero-Vent Windshield system, allowing fresh air flow into the cabin without having to stop and getting out
Provides complete protection from the elements; incorporating a canopy, windshield, doors, and rear window!
Made of Professional Grade Marine Textile that is Waterproof, Puncture Resistant, Tear Resistant, and Abrasion Resistant.
The Hard Windshield is constructed of 1/4" Lexan Polycarbonate that is virtually indestructible and nearly bulletproof.
Side doors, and rear window are constructed of durable AquaView Vinyl.
Roll Away doors provide the option of taking your doors with you or they conveniently stow-away when not in use. Providing shelter from rain, wind, sun, and snow.
Full Length double pull YKK zippers.
Ships complete with self-adhesive Velcro, installation, and care instructions.
Everything is included for hassle free installation!
Completely handcrafted in the U.S.A.
ONE YEAR Manufacturer's warranty agains defect and labor.