Polaris Ranger 400 Hard Lexan Windshield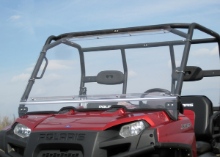 Click to enlarge image(s)
Interstate tested, traveling three hours on an open trailer at the average speed of 70 mph with a top speed of 78 mph.
Custom constructed of Lexan Polycarbonate specifically to fit the 2010 Polaris Ranger 400 4X4, or HD
Split windshield, bottom section lifts up and secured with large polycarbonate reinforced Velcro helping to eliminate blowback and dust in the passenger compartment.
100% Polycarbonate making it much stronger than the less expensive Acrylic Windshields it is nearly bulletproof perfect for those rough wooded trail rides. 1/4" thick, it will give you the durability and performance you want.
Windshield is securely attached using six rust-resistant stainless steel, rubber-lined clamps.
Easy to Install! No special tools required. Comes complete with installation and care instructions.
Made in the USA.