Bush Hog Pioneer Stereo | MP3 | CD Player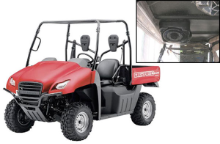 Click to enlarge image(s)
The RMT Roof Mount weather resistant stereo console housing is built tough using the latest injection molding technologies to provide a durable design.
Includes a high quality AM/FM antenna. Built to OEM specifications for great reliability.
Marine waterproof retractable cover protects the Pioneer Deck CD Player.
WR85B Marine speakers are water, UV, and corrosion resistant and have a one piece molded grill for speaker protection and durability.
The DEH Pioneer is a 50watts x 4, 200 total watts mosfet* CD player with AM/FM tuner with 3 band equalizer.
(Optional Weatherband CD Player)
MP3/WMA/MAV playback with volume and memory settings.
Connect your portable devices directly through the front AUX input.
Card Remote Control.
Detachable Face Security.
Overall dimensions: 18 in. L x 8.5 in. W x 5 in. H
Basic Kit is designed to attached to your exisiting hard roof, however an optional mouting bracket is available for use with units without hard roofs, no roof, or soft roofs. Plus, you can order an optional foam kit to cushion your new stereo for those rough rides.
Comes with a one year 100% manufacturers warranty.
AVAILABLE OPTIONS:
Optional Mounting Bracket (49.95)
Foam Kit (9.95)
Dome Light Upgrade (49.95)
Weatherband CD Player Upgrade (100.00)
Add CAMO Finish (100.00)
* Not just 200 watts; this is MOSFET 200. Compared to conventional power supplies, the MOSFET amplification circuit is smaller and more efficient, and it delivers power with less distortion and absolutely zero on/off switching noise. Remember: more power doesn't only mean "louder". It also means that your music will be cleaner at higher volumes because you're not pushing the limits of the amplification circuit.
Comes with a one year 100% manufacturers warranty.