Oreion Reeper APEX 4 Full Cab Enclosure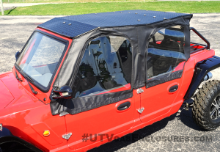 Click to enlarge image(s)
So you have the most multitasking vehicle on the road or off-road available today, the Oreion Reeper APEX 4 with the ability to flow from the hard street into the wilds just by turning. You have the best made 4 doors on the market,m now take it the extra steep by enclosing that puppy with the best-made cab enclosure to protect your baby from the elements. This is the Full Cab Enclosure that the best made on the market today. This 100% top-of-the-line material, acrylic backed, waterproof, colorfast, abrasion-resistant, and very hard to tear. Plus, we threw in a diamond aluminum top for extra durability.

Precisely measured, cut, and handstitched for an exact fit, this enclosure works perfectly with your factory windshield. Held in place by snaps, Velcro Strips, and powerful Rare Earth Magnets, you have complete access to your cabin. Doors easily open in conjunction with your hard doors, you are in and you are out. If you want the open-air feeling, you can quickly remove them and stow them away behind the seat.

Everything has been thought through to give you the comfort and protection you seek and deserve on such a fine machine.

Constructed from 11oz. marine-grade fabric, 30 gauge AquaView tinted vinyl and double stitching polyester thread.
Protects you from all the elements. Keeping you warm and dry regardless of the weather conditions.
Durable material that is impregnated with Acrylic for a waterproof, colorfast, extremely tough fabric that will withstand tough trial riding, or zip down the highway.
Manufacturer's ONE YEAR warranty against defects in materials and workmanship.
Custom made in the USA
FREE shipping to the lower 48 states